For the first time in the world, in Cluj-Napoca, the first accessible work of art for the visually impaired will be exhibited to the public, who can distinguish colors in addition to shapes. This was made possible through an interdisciplinary project that aims to reinvent the visual language into a tactile one, through the tactile alphabet of colors, the internationally awarded invention of Tudor Paul Scripor, a resident of Cluj.
The "Counterpoint" exhibition by artist Radu Comșa can be admired and explored sensorially from November 3-20 at the Art Museum in Cluj-Napoca.
An exceptional exhibition
In practice, the artist sought to reinvent an emblematic work from the museum's heritage and adapt it to the Scripor Alphabet. The work "The Blue Rider" by Hans Mattis-Teutsch, one of the representatives of Romanian historical avant-garde, can be also perceived by the public through the tactile sense.
The relief expressions, specific to the tactile-graphic language, equated dark color tones with depth, while light color tones were represented by different levels of height.
The surprising three-dimensional objects do not only represent the "translation" of visual language into the tactile one, but its reinvention, through the design of volumetrics with chromatic significance.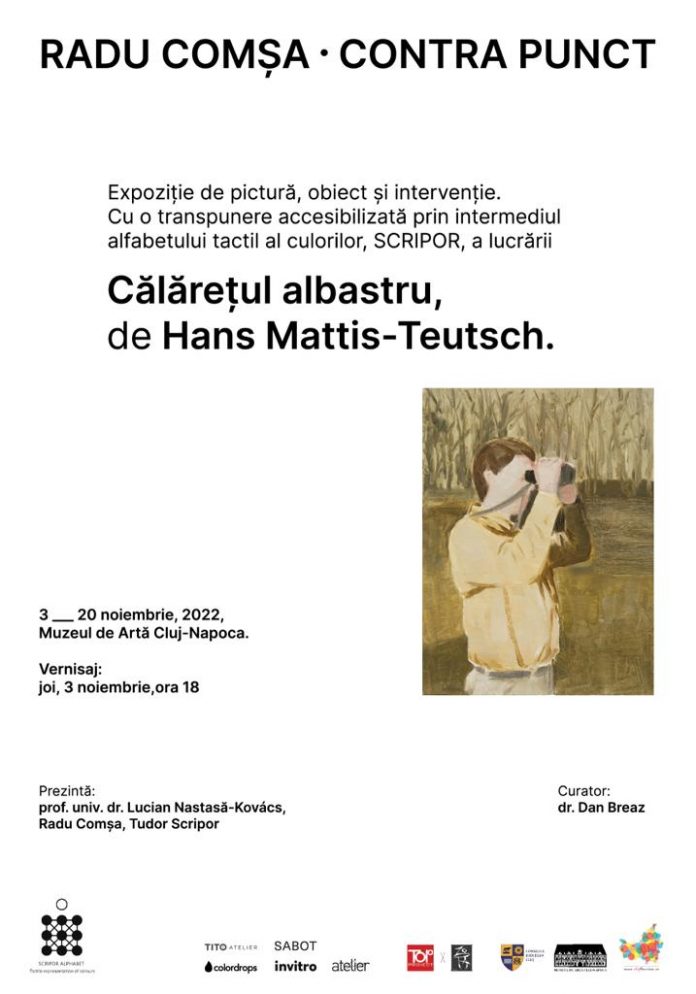 The project aims to accentuate the social inclusion of people with disabilities and offers them an unprecedented aesthetic experience. The tactile alphabet of colors is an extension of the Braille alphabet, for which Tudor Scripor was awarded with the gold medal at the 2019 Geneva Invention Salon. The exhibition's opening is scheduled for Thursday, November 3, at 6:00 p.m., and it will remain open to the public until Sunday, November 20, and can be visited from 10:00 a.m. to 5:00 p.m.